Shrine of St. Anne marked 100 years with joy and a rejuvenated church 0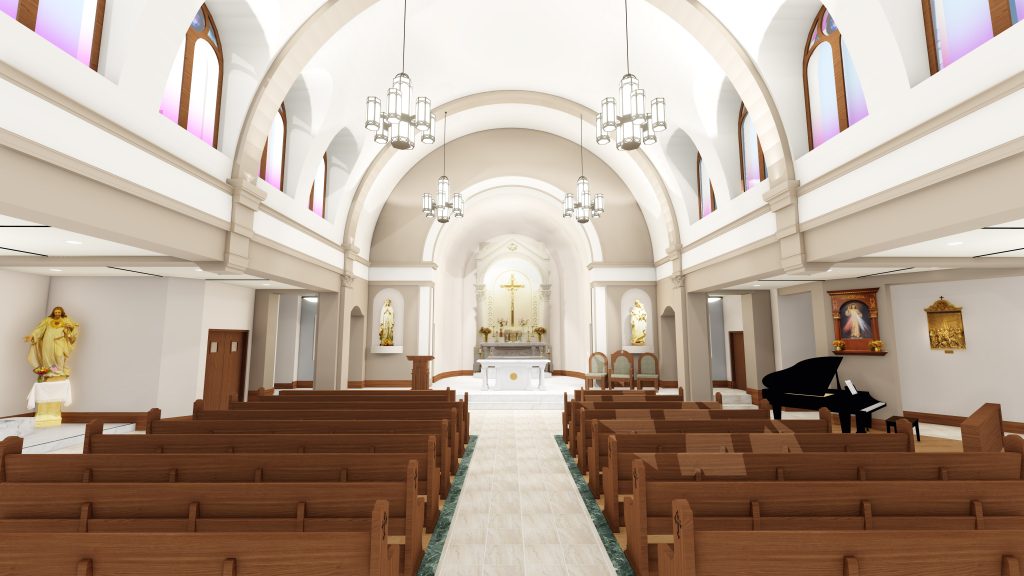 Read the full story from Denver Catholic here.
For the past 100 years, the Shrine of St. Anne Catholic Parish has joyfully served the community of Olde Town Arvada and surrounding areas.
On July 26, Shrine of St. Anne celebrated its 100th anniversary with a special mass. This year, St. Anne also completed a major church renovation to refresh and rejuvenate the church. After lots of hard work and various delays due to the pandemic, on September 22, St. Anne had their solemn dedication of the altar with a special mass celebrated by Archbishop Samuel J. Aquila and Father McGrath. Although the celebration was limited because of COVID-19 restrictions, parishioners who were unable to attend in person were able to witness this special moment via virtual live streaming.
It marked a rather unexpected, yet still joyful contrast to nearly 100 years ago, when on June 25, 1922, many visitors from other Denver Catholic churches and all members of the new church, attended the dedication of the Shire of St. Anne. That same day, Bishop Tihen presented a relic of St. Anne to the new church congregation, a particle of her wrist bone. He had acquired this reliquary in France, near the Shrine of Lourdes, during a visit to Europe in 1921.
To this day, the reliquary is still located in the chapel, displayed to the parishioners of St. Anne. Bishop Tihen also presented a consecrated altar stone which was placed at the back of St. Anne's new altar. However, these sacred pieces are not the only things that make Shrine of St. Anne Parish so special. Both parishioners and employees have a special affection for this church that has brought them closer to Christ.
"Being a part of the Shrine of St. Anne community is to truly feel that we are an essential part of the Body of Christ," said Karen Oldham, parishioner and Director of Religious Education at Shrine of St. Anne. "As transplants to Colorado over 35 years ago, St. Anne's welcomed my family with open arms. Since it is not an overly large parish, it is easy to get to know others, make friends, and get involved in the parish life."
For Father Sean McGrath, pastor of the parish since June 2017, returning to St. Anne after he was a Parochial Vicar in the '90s is a huge blessing and makes him feel part of the family.
"It's a pleasure to return to The Shrine of St. Anne as the pastor," Father McGrath said. "Twenty-nine years ago, the Shrine of St. Anne was my first assignment as a parochial vicar, working with Father Tom McCormick, indeed a fantastic pastor. There are many familiar faces in the pews which tells you the test of time."
St. Anne is a diverse and rapidly changing community that includes older parishioners that have seen their families grow up attending this parish. Shrine of St. Anne is also home to one of the Archdiocese of Denver's Catholic Schools, which opened in 1961. Shrine of St. Anne Catholic School is a welcoming community that focuses on religious academics and Catholic faith formation. The school has over 355 students in grades K-8.
The Shrine of St. Anne offers a wide range of ministries to serve the community and continue evangelizing. A clear example is the Youth Ministry and Confirmation programs that serve the community in different ways. Some of their activities include, but are not limited to, serving the homeless community twice a year with Christ in the City, sponsoring a program with the City of Arvada to clean a local park trail multiple times a year, volunteering activities with other ministries, and being part of the Mountain Madness Youth Conference and the Steubenville of the Rockies Youth Conference.
Over the past three years, St. Anne parishioner Barbara Lambright and a group of other fellow parishioners have knit thousands hats for the homeless, the needy, fire departments and various charities. They call themselves the Arvada Mad Hatters. Denver 7 recently featured Lambridge as an Everyday hero. "We've always given back of our time talent and treasures, and this is a way of doing it," Lambright told Denver 7.
Lambright and the Mad Hatters are just one part of the lovely and vibrant faith community that makes up the Shrine of St. Anne. With the mission, "To call all people together in Christ so that they will grow in holiness, live by His teaching and proclaim His Good News," the parish has made sure to keep their faith alive and overcome all the challenges they have had to face, especially during the pandemic.
"Throughout all the ups and downs, the one consistent thing I get from our parishioners is their devotion to this church, their desire to stay connected, and to be involved," said Debbie Capra, receptionist and bulletin editor for the parish. "They want our parish and school to continue to be considered places that people CHOOSE to bring their families for their worship and their children's education."
"To be a part of the Shrine of St. Anne, is to always feel loved, welcomed, and right at home in 'Grandma's House!'" Oldham concluded.