St. Elizabeth Ann Seton Catholic Church Celebrates Completion of New Worship Space 0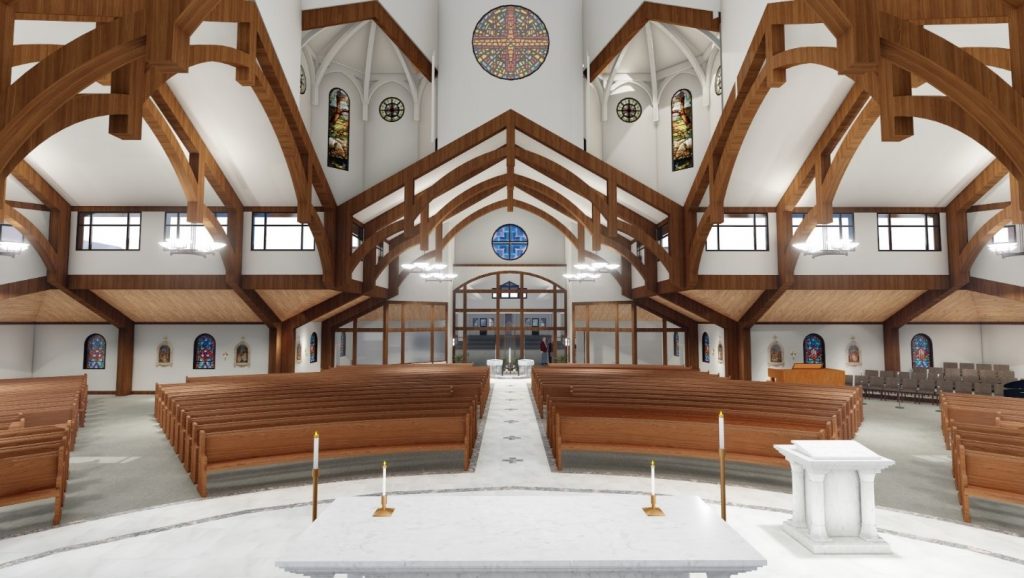 The 27,000 square foot addition features liturgical artwork and enhanced acoustics to better serve the Parish community.
FOR IMMEDIATE RELEASE
FORT COLLINS, Colo— Sunday, August 9, 2020 –
Eidos Architects, a firm that focuses on religious spaces, and St. Elizabeth Ann Seton Catholic Parish in Fort Collins celebrated the addition and remodel of the Parish on Sunday.
"Originally, the Church was designed as a multipurpose space that functioned both as a Parish Hall and Worship Space. The addition of a new Nave and various interior renovations better support the Catholic faith and Archdiocese." Jon Rosenthal who is one of Eidos' experienced Project Architects said.
The 27,500 square foot addition will seat approximately 800 Parishioners. It features a high cupola and transept that create a traditional cruciform shape.  The building also includes liturgical artwork and enhanced acoustics.
"Today, August 9th 2020, marks the completion of our journey.  First, the parish staff worked tirelessly on all the details, big and small.  Second, Eidos Architects worked hours on plans and brought this project to life in a beautiful way," Father Joseph Toledo of St. Elizabeth Ann Seton said. "Eidos is a wonderful company to work with, and I could not imagine doing this without their help. As Pastor, I am so proud of our New Church.  It immediately calls us into the mystery of God and of His love for each person.  What a gift this Church is to the St. Elizabeth Ann Seton community."
The project was completed with Horizon West Builders. Eidos Architects has extensive experience working with religious facilities. The firm recently completed the renovation of Shrine of St. Anne Catholic Church in Arvada as well as an addition to All Souls Catholic Preschool and Early Childhood in Englewood, Colorado.
# # #
The Eidos Architects Story
In 2002, our Founders set out together to chase a vision. A vision of building an architectural firm that brings positive community impact to the place they call home. Today, we are a team of 25 members who focus on planning, designing and constructing places that are aesthetically pleasing, but also functional, durable, cost effective and easy to maintain. We design with community in mind on projects such as K-12 schools, religious facilities, affordable housing and municipal buildings. To learn more about us and our architectural experience visit our website. To stay up to date on current Eidos projects and more, connect with us on social, @EidosArchitects.