Join Eidos Architects on Colorado Gives Day 2020 0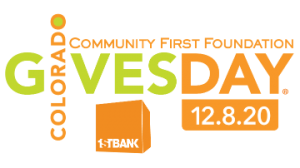 FOR IMMEDIATE RELEASE
Eidos Architects is supporting Denver Public Schools Foundation and Denver Rescue Mission by collecting donations now and until December 8

GREENWOOD VILLAGE, Colo.— November 25, 2020-
Colorado Honor Band invites you to support Denver Public Schools Foundation and Denver Rescue Mission by donating on Colorado Gives Day, December 8, 2020.
Community First Foundation and FirstBank present Colorado Gives Day, an annual statewide movement to celebrate and increase philanthropy through online giving. The event is powered by ColoradoGives.org, a year-round, online giving platform. Donors can easily search for our profile on the site and make safe and secure donations.
"Colorado Gives Day is our way of supporting our community," Mae Ann Saas, Director of Client Relations at Eidos Architects said. "While many of us have given individually over the years, we are encouraging our staff and those in their inner circles to donate if they're able to directly through Eidos' fundraising pages."
$1 Million Incentive Fund
Community First Foundation and FirstBank each contributed $500,000 to create a $1 Million Incentive Fund, one of the largest gives-day incentive funds in the country. Every nonprofit receiving a donation on Colorado Gives Day receives a portion of the fund, which increases the value of every dollar donated.
Community First Foundation, a leading foundation dedicated to fueling the power of community to drive positive change, and FirstBank, Colorado's largest locally owned bank, have partnered to present Colorado Gives Day for the past eight years.
By making fundraising simple for nonprofits and giving easy for donors, it is one the most successful events of its kind in the nation.
Last year, $39.6 million was raised for Colorado nonprofits in just 24 hours.
To donate directly to Denver Public Schools Foundation through Eidos Architects' fundraising page, visit: https://www.coloradogives.org/DPSF
To donate directly to Denver Rescue Mission through Eidos Architects' fundraising page, visit: https://www.coloradogives.org/DRM
###
About Eidos Architects
In 2002, our Founders set out together to chase a vision. A vision of building an architectural firm that brings positive community impact to the place they call home. Today, we are a team of 25 members who focus on planning, designing and constructing places that are aesthetically pleasing, but also functional, durable, cost effective and easy to maintain. We design with community in mind on projects such as K-12 schools, religious facilities, affordable housing and municipal buildings. To learn more about us and our architectural experience visit our website. To stay up to date on current Eidos projects and more, connect with us on social, @EidosArchitects.
About Community First Foundation
Since 1975, Community First Foundation has been helping generous donors and innovative nonprofits come together to improve the quality of life and create positive change in Jefferson County, the Denver metropolitan area and beyond. We serve as a connector, partner, collaborator and resource to fuel the power of community for the greater good. We are proud to use our energy, leadership and trusted stewardship of financial resources to energize giving across our state, strengthen nonprofits, support donors and find new ways to address community needs. For more information, visit CommunityFirstFoundation.org.
About FirstBank
FirstBank, the nation's third largest privately held bank, operates more than 115 locations in Arizona, Colorado and California and serves more than 750,000 customers. Since 2000, FirstBank has been recognized as a top corporate philanthropist and contributed more than $60 million and thousands of volunteer hours to charitable organizations. FirstBank is unique in that a majority of its stock is owned by management and employees. For more information, visit efirstbank.com.